So even though I finished Fins Are Forever already, I'm still going to hold off on my review until tomorrow (mostly because I don't know if I'm happy with my review yet), today is just a status update on the status of me, the blog, and what is to come.
I don't think I should post my life story here, since it's going to stretch the page further than you can imagine. So, I've taken a few highlights and put them here. If you want to read my whole life story (since I stayed up really late last night and just kept finding things to write about myself), please visit the About the Author page, but be prepared, it is really long. I am going to post what's going on right now in my life though.
I am enrolled in four classes right now (one ends tomorrow *thank God*) so I should be doing homework right now. I have tons to do before my classes on Monday & Tuesday, but I decided to blog instead. When I say tons, I mean tons. I have a written assignment about an article, which I haven't even started looking for yet, about something to do with marketing right now. I have notes to catch up on in my marketing class, which is only two chapters of notes but still more that I have to do. I have a practice exam to do for Tuesday's corporate finance class, along with two case studies for the same class (that end up being about a page and a half each, but their calculations and explanations to do). I have two cases to turn in because I missed two classes, one for the Harry Potter premiere, and the other because I went to Ocean City. I also have a power point presentation due tomorrow at night for the class that's ending which is my final project, that I haven't started. I also have to post on discussion boards for that class (international business) because it's an online class.
I'm having a birthday celebration tomorrow with family (my birthday is Monday, but I have classes, and my parents have work). I'm going to be 20. This is big, but not huge… that's next year, when I go to Las Vegas for my 21st. Anyway, I'm excited for tomorrow because I get cake, from the best bakery around my area (called Cramer's) it's a little family owned place and they make the best cakes I've ever tasted in my life. I guess I'm also excited because I get to see my family, it's just my grandparents, and it's not like they're from out of town, but still it's nice to see them once in a while.
In more relevant news to the blogging world, I finished Fins Are Forever on Thursday night, but I'm holding my review until tomorrow's post (mostly so I'll have something to post tomorrow). I just started reading Matched by Ally Condie, and can't wait to get further into it, I have heard that it reminds people of The Giver by Lois Lowry, and if it does I'm really excited because I absolutely loved The Giver.
I am getting into the graphics of the blog, but haven't gotten super far yet. I think the theme I've chosen is going to be the one that sticks though. I love rainstorms, so the background image is perfect, and it's a dark background, which makes me think of nighttime (hence the Midnight in the blog title). The blog is called The Midnight Bookworm because I always read at night, before I go to bed which is usually around midnight, and the theme is good because rainstorms always make me want to skip whatever I'm supposed to do that day and read a good book all day long instead.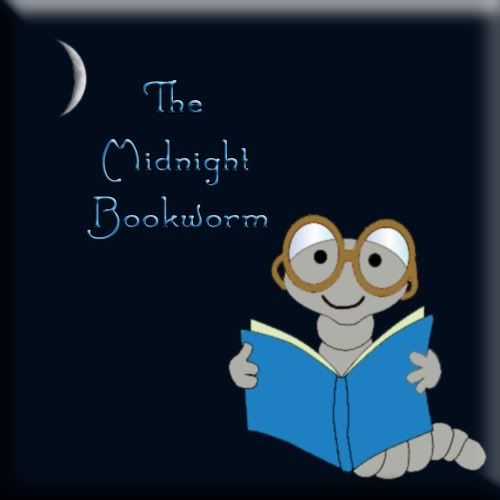 I am very excited about my button though (above), I just finished making it last night, while watching Grey's Anatomy with my parents (it's our thing to do every night so we can finish the series on Netflix). I obviously had to make it smaller to fit in my sidebar, but it's there now, and all I have to do is figure out is which gadget is the right one to add over there with the button so that people can actually grab it since now it's just an image with a link back to the homepage, with no coding under it. I'll have to Google how to get the little scrolly text box. I made the graphic in Adobe Photoshop, and it took me forever to remember how to make the edges look 3D instead of just a plain square (and it wasn't in the 3D menu, so it took me like 20 minutes to find it). My goal for the day today is, not only to get my homework done, but to get graphics done for my rating scale so that I can give books a cute rating instead of just "**" – two stars – because that's boring. I want to get a header graphic in soon too, but I don't think that will happen quite as fast as I want it to because that will take some time developing the idea of what to do, so for now the boring title that blogger gives will have to do.
Yesterday's blog hop will hopefully get me a couple followers, I was number 158 on the blog hop at crazy-for-books.com when I first posted the link, so I'm super excited about even being listed on there. (I'm so excited that I took a screenshot of it… yes, I'm that nerdy).
Tomorrow on the blog will be my review about Fins Are Forever by Tera Lynn Childs. It may contain spoilers about Forgive My Fins because it is the second in the series, but I will try to keep the spoilers to a minimum. I hope to get my review policies finished, the list of blogs I follow together, and the contact me page done by tomorrow night, but there's no guarantees about any of that getting done. I do have homework and company coming over (means my mom will be freaking out until the house is in perfect condition for company, which means I will have to help clean the place).